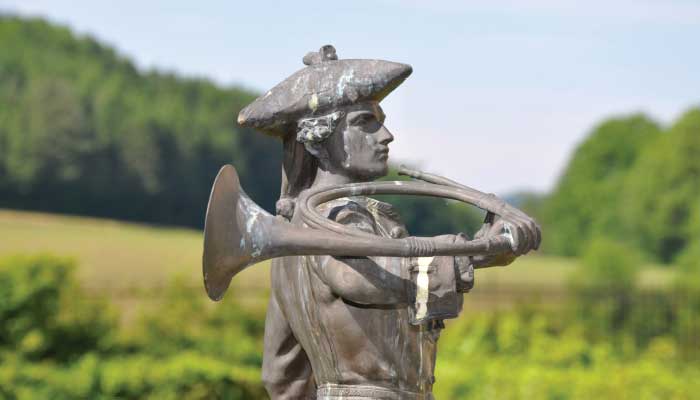 Concerts
The history of music can not only be traced in the Museum of Musical Instruments, it can also be experienced at first hand in a range of concert series at Kremsegg Castle.
Many of the concerts feature selected instruments from the museum's collection – an aspect of our work which very much reflects the philosophy of this centre of the arts. The delicate tonal colours of the fortepiano arouse enthusiasm among the public as well as the performers.
The "Schubert Hall" is particularly suitable for chamber music – the vaulted room offers plenty of space for larger ensembles. There are also opportunities for recitals in the charming arcade courtyard and even in the exhibition rooms of the museum.
A variety of concert cycles provide a rich diet of music. For example, we offer concerts centred around certain composers such as Franz Schubert, Friedrich Gulda and Johann Nepomuk David as a counterpart to exhibitions on the same theme. In addition to the Gulda-Tagen – the mini-festival we have already staged several times – Kremsegg Castle will be the venue for a Schubertiade from 2016.
Outstanding musicians such as Paul Badura-Skoda, Barbara Bonney, Franz Welser-Möst and Joe Zawinul have already performed at Kremsegg. Alongside international guests, Austrian and regional artists are given particular prominence. There are co-operations with, among others, the Music Summer Kremstal-Pyhrn, with Austrian music universities and with the Music schools of Upper Austria in the area. Students of the Anton Bruckner Private University, for example, have the opportunity to practise and perform on historical fortepianos at Kremsegg.
Above all, young aspiring musicians are particularly welcome as performers at Kremsegg Castle, since these are the artists who will shape the future of our cultural life. We also offer programmes for our very youngest listeners: Marco Simsa has enchanted our young guests on several occasions.
Concert audiences are invited to visit the Museum of Musical Instruments free of charge before the concerts.